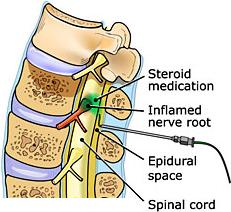 GENERAL
Epidural steroid injections have been used for many years in the treatment of spinal pain. One of the first references to epidural injection was made in 1920 in the treatment of low back pain and sciatica. Epidural corticosteroid injection is often used for diseases such as spinal stenosis, intradiscal degeneration, herniated intervertebral disc, sciatica and radiculopathy. Cervical and thoracic epidural injection is used also in the treatment of post-herpetic neuralgia. The technique is applied in the subacute phase of a painful condition (e.g. sciatica) and in the chronic phase of some diseases (e.g. spinal stenosis) when the pain does not subside with conservative treatment.
Corticosteroids injected in the region of inflamed nerve roots, have a strong anti-inflammatory action reducing the oedema and relieving pain. The solution injected contains also local anaesthetic, usually ropivacaine, which offers immediate relief lasting for some hours. The corticosteroid (usually depot-medrol, betamethasone or dexamethasone) will start acting 3-5 days after the injection and the result lasts from some weeks to some months. The technique may need to be repeated up to two more times, with an inbetween interval of at least 2 weeks. In general, no more than 3 injections should be done within a period of 6 months. Should the pain not subside, other therapies have to be found.
Epidural corticosteroid injection does not treat the actual cause of the disease (e.g. the herniated intervertebral disc). It rather gives time to nature itself to regress the disc herniation by offering analgesia reducing the inflammation of the nerve root that causes the pain. Besides, think of how many people show herniated intervertebral discs in their MRI but have no actual disturbance at all!
ANATOMY RELEVANT TO THE TECHNIQUE
The spinal cord, located within the spinal canal, is surrounded by three layers of protective membranes that are called meninges. The three meninges, starting from the innermost to the outermost, are the following: pia, arachnoid and dura mater.
Inbetween the three meninges there is anatomical space of very small dimensions, Between the pia and arachnoid mater there is the subarachnoid space, within which circulates the cerebrospinal fluid (CSF). Between the arachnoid and dura mater, there is a tiny space, the subdural space. Above the dura mater and between itself and  ligamentum flavum, there is the epidural space containing fat and the nerve roots exiting from the spinal cord.
The epidural space extends along the spine, from the occipital foramen to approximately the 2nd sacral level. These nerve roots going through the epidural space and leaving the spine through the intervertebral foramina, constitute the target of the epidural injection.
DESCRIPTION OF THE TECHNIQUE
There are three different techniques for applying this therapeutic method, known as translaminar, transforaminal and sacrococcygeal epidural injection. The selection of the technique depends on the disorder in question and the particularity of each patient. There is no need for hospitalization and the patient can go home very soon after the application. The technique is performed under local anaesthesia, with the patient in the prone position and a pillow placed under the abdomen. A special needled is advanced to the target point under fluoroscopic guidance and then contrast medium is infused to confirm the proper positioning of the needle tip. As long as the therapist physician is satisfied with the needle position, the corticosteroid-local anaesthetic solution is injected and the needle is removed. The needle site is covered with antiseptic and gauze.
•    Translaminar approach. The needle is inserted from the posterior surface of the vertebral body and is directed between the spinous processes of the spine.  Spinous processes are the bones that protrude when bending forwards. The drug solution that is injected "washes" the nerve roots in both sides of the spine at the level of injection. (4,5,6,16)
•    Transforaminal approach. The needle is placed exactly into the intervertebral foramen from where the nerve root exits the spine. It is the ideal technique for applying an anti-inflammatory therapy, in an absolutely selective way, to some inflammed nerve root that causes pain (e.g. sciatica due to subacute herniated intervertebral disc). Ackerman and Ahmad (2007) proved that the transforaminal approach is more effective than translaminar and sacrococcygeal approaches in the treatment of  herniated intervertebral disc and radicular pain at the level between the 5th lumbar and 1st sacral spine. (11,12,18)

•    Sacrococcygeal approach. Sacrum is the last level of the spine that connects the spine with the hips. The needle is inserted into the epidural space through a small opening  in the sacrum called sacral hiatus. The technique is applied for the treatment of low back pain and sciatica. (1,2,13)
RISKS -COMPLICATIONS
Epidural corticosteroid injection is a relatively safe technique with a very low rate of complications. Complications that have been reported are epidural haematoma, abscess, Cushing syndrome, anaphylactoid reaction and headache in case there is injury of the dura mater and loss of cerebrospinal fluid (CSF).
CONTRAINDICATIONS
Epidural injection should not be applied when the patient has any blood coagulation disorder or receives anticoagulants. In the latter case, the regimen should be discontinued for quite a sufficient time and the oral anticoagulant should be replaced with low molecular weight heparin, always with the therapist physician's approval.
RESULTS
The degree and duration of pain relief following a therapeutic epidural injection, differ from case to case and depend on many other factors, such as the patient's medical history and activity level. Some patients may be permanently relieved with one or two injections, whereas others may be relieved only temporarily.
The Physical Medicine and Rehabilitation Department of  Washington University have carried out a study comparing outcome and risks between surgical treatment and epidural corticosteroid injection.
It has been concluded from the study that lumbar epidural corticosteroid injection is a treatment that should precede the surgical lumbar spine operation, unless the patient's highly severe neurological symptomatology strictly requires immediate surgery.
LITERATURE
1. Viner N. Intractable sciatica: the sacral epidural injection—an effective method of giving relief. Can Med Assoc J. 1925;15:630–634.
2. Evans W. Intrasacral epidural injections in the treatment of sciatica. Lancet. 1930;219:1225–1229.
3. Brown JH.  Pressure caudal anaesthesia and back manipulation. Northwest Med (Seattle). 1960;59:905–909.
4. Goebert HW, Jallo SJ, Gardner WJ, Wasmuth CE, and Bitte EM. Sciatica: treatment with epidural injections of procaine and hydrocortisone. Cleveland Clinic Quart. 1960;27:191–197.
5. Williams KD, Park AL. Lower back pain and disorders of intervertebral discs. In: Canale ST, Beaty JH, eds. Campbell's Operative Orthopedics. 11th ed.  Philadelphia, PA: Mosby Elsevier; 2008: 2159-2223.
6. Levin KH. Nonsurgical interventions for spine pain. Neurological clinics. 2007;25(2):495-505.
7.  Heran MKS, Smith AD, Legiehn GM. Spinal injection procedures: a review of concepts, controversies, and complications. Radiol Clin of North Am. 2008;46(3):487-514.
8. Ackerman WE 3rd, Ahmad M. The efficacy of lumbar epidural steroid injections in patients with lumbar disc herniations.  Anesth Analg. 2007;104(5):1217-22.
9. Papagelopoulos PJ, Petrou HG, Triantafyllidis PG, et al. Treatment of lumbosacral radicular pain with epidural steroid injections. Orthopedics. 2001;24(2):145-149.
10. McLain RF, Kapural L, Mekhail NA.  Epidural steroid therapy for back and leg pain: mechanisms of action and efficacy.  Spine J. 2005;5(2):191-201.
11. Botwin KP, Gruber RD, Bouchlas CG, et al. Fluoroscopically guided lumbar transformational epidural steroid injections in degenerative lumbar stenosis: an outcome study. Am J Phys Med Rehabil. Dec 2002;81(12):898-905.
12. Buenaventura RM, Datta S, Abdi S, et al. Systematic review of therapeutic lumbar transforaminal epidural steroid injections. Pain Physician. 2009;12(1):233-51.
13. Sayegh FE, Kenanidis EI, Papavasiliou KA, Potoupnis ME, Kirkos JM, Kapetanos GA. Efficacy of steroid and nonsteroid caudal epidural injections for low back pain and sciatica: a prospective, randomized, double-blind clinical trial. Spine. 2009;34(14):1441-1447.
14. Conn A, Buenaventura RM, Datta S, et al. Systematic review of caudal epidural injections in the management of chronic low back pain. Pain Physician. 2009;12(1):109-35.
15. Abdi S, Datta S, Trescot AM, Schultz DM, Adlaka R, Atluri SL, Smith HS, Manchikanti L. Epidural steroid in the management of chronic spinal pain: a systematic review. Pain Physician. 2007;10(1):185-212.
16. Parr AT, Diwan S, Abdi S. Lumbar interlaminar epidural injections in managing chronic low back and lower extremity pain: a systematic review. Pain Physician. 2009;12(1):163-88.
17. Rydevik BL, Cohen DB, Kostuik JP: Spine epidural steroids for patients with lumbar spinal stenosis. Spine. 1997;22:2313-2317.
18. Huntoon MA, Martin DP: Paralysis after transforaminal epidural injection and previous spinal surgery. Reg Anesth Pain Med. 2004;29:494-495.19. Botwin KP, Gruber RD, Bouchlas CG, et al: Complications of fluoroscopically guided transforaminal lumbar epidural injections.  Arch Phys Med Rehabil 2000; 81:1045-1050.
Diagnostic Facet Joint Block
GENERAL
Diagnostic facet joint block is a minimally invasive technique that is applied for various diagnostic purposes in patients suffering from chronic lumbar pain and whose clinical examination and history raises the suspicion for facet joint syndrome.
DESCRIPTION OF THE TECHNIQUE
The diagnostic interventional technique is applied under local skin anaesthesia and fluoroscopic guidance. A fine needle is directed to the point from which passes the medial branch of the posterior spinal nerve ramus, innervating the facet joint. Every facet joint is innervated by two such nerve branches. As soon as the tip of the needle touches bone surface and the proper site of the needle is confirmed with fluoroscopy, a long-acting anaesthetic 0,5ml is injected. The same is repeated twice (one for each branch). The diagnostic facet joint block is applied to the cervical and lumbar spine.
PURPOSE OF APPLICATION
If  the patient feels significant pain relief for as long as the local anaesthetic action lasts (about 4 hours) and s/he is able to carry out functions that could not do before the block, then the diagnosis is set for facet joint syndrome. In this case, another session follows  applying conventional radiofrequency to ablate the nerve branches that innervate the facet joints (medial branches of the spinal nerve dorsal ramus).
Cervical Radicular Pain TREATMENTS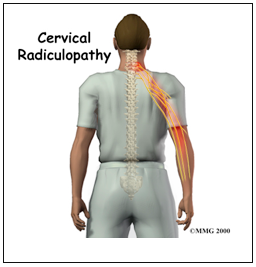 GENERAL
Cervical radicular pain is the pain caused by irritation or inflammation or injury of a cervical spine nerve. The pain is located in the upper arm ipsilateral to the lesion and is acute, stabbing, electric shock-like. (3,4)
Cervical radicular pain has to be differentiated from cervical radiculopathy. In radiculopathy there is objective sensory or/and motor loss. These two entities should not be confused, as it usually happens. Radicular pain is a symptom induced by ectopic excitation, while radiculopathy involves also neurological signs, such as sensory or/and motor changes. The two disorders may co-exist and have the same causes, e.g. intervertebral foraminal stenosis, disc herniation, infection and other inflammatory conditions. There is also the case of patients initially suffering from radiculitis (nerve root inflammation) that later on progresses into radiculopathy.
CAUSES
The most common cause of acute and subacute (6-12 weeks) cervical radicular pain is cervical disc herniation .
The most common cause of chronic (over 3 months) cervical radicular pain is the formation of adhesions around a nerve root and its chronic irritation. Adhesions may form as a result of acute inflammation due to disc herniation or after  spine surgery.
Other causes may be: spinal canal stenosis, intervertebral foraminal stenosis (at the point where the nerve root exits), spondylolysthesis, syringomyelia and radiculitis following radiation or chemotherapy.

DIAGNOSIS
SYMPTOMS
Cervical radicular pain is characterized by neck pain radiating to the posterior side of the shoulder, forearm and sometimes may reach down to the hand. Radiating pain follows the dermatome distribution of the affected nerve but also affects the tissues innervated by this nerve, such as muscles, joints, ligaments and skin. (4,9)
Pain originating from the fourth cervical root (C4) is localized in the neck and suprascapular region. Pain from the fifth cervical root (C5) radiates to the forearm, whereas pain from the sixth and seventh root (C6 and C7) extends to the neck, shoulder, forearm and hand.
PHYSICAL EXAMINATION
The diagnosis is based on the history, clinical examination and supplementary tests.  The classical neurological examination includes sensory, motor and reflex examination.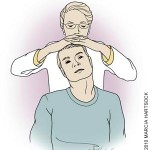 There are a number of special clinical tests relating to the diagnosis of cervical radicular pain:
1. Spurling test. With patient's neck in extension and head turned to the side of the painful shoulder, the clinician exerts vertical pressure on the head. Induced shoulder or forearm pain is an indication of probable compression of the cervical spinal root.
2.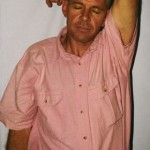 Shoulder adduction test. The patient elevates the arm above the head. Reduction or elimination of pain indicates probable cervical radicular origin.
3.
Vertical head traction test. The patient lies on the back and the clinician exerts vertical head traction equal to about 10-15 kilos. Reduction or elimination of pain indicates probable cervical radicular origin.
INTERVERTEBRAL LEVEL

NERVE ROOT

PAIN DISTRIBUTION

MUSCLE WEAKNESS

SENSORY LOSS

REFLEX LOSS


C4-C5

C5

MEDIAL SCAPULA

 

LATERAL UPPER ARM DOWN TO ELBOW

DELTOID

 

SUPRASPINATUS

INFRASPINATUS


LATERAL UPPER ARM

SUPINATOR REFLEX

C5-C6

C6

LATERAL FOREARM

 

THUMB AND FOREFINGER


BICEPS BRANCHIALIS


 

BRACHIORADIALIS

WRIST EXTENSORS


THUMB AND FOREFINGER

BICEPS REFLEX

C6-C7

C7

MEDIAL SCAPULA

 

POSTERIOR UPPER ARM

DORSAL FOREARM AND

THIRD FINGER


TRICEPS

 

WRIST  FLEXORS

EXTENSOR DIGITORUM


POSTERIOR FOREARM

 

THIRD FINGER

TRICEPS REFLEX

C7-T1

C8

SHOULDER

 

ULNAR PART OF FOREARM

FIFTH FINGER


THUMB FLEXOR

FIFTH FINGER

 
From Carette S and Fehlings MG
SUPPLEMENTARY EXAMINATIONS
The most commonly used supplementary examinations are radiological evaluation, electrophysiological testing and diagnostic selective nerve root blocks. Plain X-ray examinations are used mainly to rule out other serious primary pathology, such as tumor, infection and vertebral fracture.
CT scan provides good information on bone structures but there are limitations with regard to soft tissues.  MRI is the examination of choice, showing morphological changes taking place in intervertebral discs, spinal cord, nerve roots and surrounding soft tissues. The diagnosis should not be based only on radiological findings, as a number of studies have shown that approximately 30% of patients with MRI findings are asymptomatic. When clinical and radiological findings match, then it is much easier to make a proper diagnosis. (6,12,13)
2 . ELECTROPHYSIOLOGICAL TESTS
Electrophysiological tests include nerve conduction and electromyography (EMG). These are useful when there is suspicion for nerve defect but they do not provide any particular information regarding pain.
3. DIAGNOSTIC SELECTIVE NERVE ROOT BLOCKS
These are applied when there is doubt about which specific nerve root causes the pain. With this technique, the nerve root is blocked with 0,5ml local anaesthetic and then the patient has to report whether his/her pain impoves at least by 50%. Every suspicious nerve root is blocked separately in different sessions until the one causing the pain is identified. (15)
DIFFERENTIAL DIAGNOSIS
Before setting the final diagnosis, it is imperative to investigate and exclude any other serious primary pathology, such as tumor, infection and vertebral fracture.
A tumor causing brachial pain of neuropathic type is the Pancoast tumor, which is an  apical lung tumor that may compress the subclavian artery, phrenic nerve, brachial plexus and sympathetic ganglion, causing the so-called Horner syndrome. Metastases from some primary condition in the cervical spine may also cause brachial pain.
The clinical examination and history should be also used to rule out any probable pathology of the shoulder and cervical facet joints. Shoulder pain limits only the shoulder motion, while the cervical facet joint syndrome restricts the neck rotational movements. There is also increased sensitivity on paravertebral pressure and pseudoradicular pain radiating to the shoulder. (16)
TREATMENT
Α. CONSERVATIVE TREATMENT (6,17,18,19)

For the treatment of acute and subacute condition, anti-inflammatory drugs are recommended  but only for a short period to avoid potential severe cardiovascular and gastrointestinal complications that might occur.
The chronic condition is treated with drugs administered in neuropathic pain, such as antidepressants (amitriptyline), antiepileptics (carbamazepine, oxcarbazepine, gabapentin, pregabalin). Although there are not yet studies establishing their efficacy in cervical radicular pain, this pain falls in the category of neuropathic pain and drugs mentioned above are definitely indicated.
In case of resistant pain to therapy, mild opioids may be added, such as codeine and tramadol.
In one of Cochrane's reviews, the value of spinal traction application was evaluated in the treatment of cervical pain with or without radicular pain and , as regards the efficacy of the method, there was no evidence either to support or reject  it.
Multifactorial rehabilitation is recommended with physical therapy and chiropractic manipulations.
In case pain persists or the patient does not tolerate the potential adverse events of drugs that s/he should take on a long-term basis and before deciding to administer any strong opioids, it is recommended to apply innterventional pain therapies.
Before starting pharmaceutical treatment on a long-term basis, many patients choose a minimally invasive therapy which intervenes straight to the origin of pain, in order to avoid chronic addiction to drugs with several side effects.  In many cases, the ideal treatment is achieved with combination of pharmacotherapy and interventional techniques.
B. INTERVENTIONAL PAIN  TREATMENT
1.   Epidural Corticosteroid Injection (21,22,23,30,31,32,33)
When the disease is in its acute or subacute form, cervical epidural corticosteroid injection is indicated. The technique used, is the posterior translaminar approach, whereas the transforaminal epidural injection is avoided due to high risk of severe complications, as opposed to the lumbar spine where the transforaminal approach is preferred.
Systematic research worldwide leads to the conclusion that the cervical epidural corticosteroid injection is significantly effective in the treatment of acute and subacute cervical radicular pain and should always be applied before surgery decision.
2.   Neuroplasty (adhesiolysis) with Racz catheter
When the disease is in its chronic form -as it usually happens after spine surgery or following the acute and subacute phase of radiculitis from disc herniation that had been undertreated with conservative therapy- neuroplasty (adhesiolysis) with Racz catheter  is indicated.
The American Society of Interventional Pain Physicians (ASIPP)  published evidence-based guidelines for invasive techniques in the management of chronic spinal pain.
According to these guidelines, there is strong evidence indicating the efficacy of neuroplasty with corticosteroids in the short and long-term control of pain in refractory radiculopathy and neuropathic spinal pain.
3.  Pulsed Radiofrequency Therapy (PRF)
Randomized controlled  studies have demonstrated the efficacy of PRF applied on the dorsal spinal root ganglion (DRG) of the cervical spine. According to evidence-based medicine, the application of the method in cases of chronic cervical radiculitis is strongly recommended.
The duration of analgesia varies from case to case. The technique is safe and can be repeated as many times as needed. If, despite the repetitive therapeutic sessions with pulsed radiofrequency the result has limited duration, then conventional radiofrequency can be applied. This application, however, destroys (ablates) the ganglion and may cause slight muscle weakness in the arm.(59,60,61)
4.  Spinal Cord Stimulation(65)
It is a neuromodulatory therapy, which is used in case all other less invasive methods fail. Its efficacy in treating chronic resistant neuropathic pain is significant.
C. SURGICAL TREATMENT
Surgery is indicated in case the spinal cord is severely compressed with high risk of causing myelopathy with permanent severe irreversible neurological impairment.
In a randomized study, comparison was made between surgical and conservative treatment and it was found that there was substantial improvement in pain 3 months postoperatively.  However, one year later there was no difference between the two patient groups. A small randomized study demonstrated that there are no differences in the neurologic outcome between patients who were treated surgically or conservatively.
Thus, surgical operation should be limited only to those patients whose neurological condition  is so aggravated that the patient is in risk for permanent irreversible neurologic impairment
Superior Hypogastric Plexus Block
GENERAL
A superior hypogastric plexus block is used to treat pelvic pain that is resistant to conservative drug therapy. It is also indicated when, despite the efficacy of pharmacotherapy, there are many intolerable drug side-effects (nausea, constipation, sedation etc).
ANATOMY
Superior hypogastric plexus is a retroperitoneal structure located bilaterally exactly in front of the spine, between the lower third of the 5th lumbar vertebra and the upper third of the 1st sacral vertebra. It is composed of pelvic visceral afferent and efferent sympathetic nerve fibres, branches of the aortic plexus and branches of the visceral nerves. Due to its position, it innervates the majority of pelvic viscera (bladder, urethra, uterus, vulva, vagina, perineum, prostate, penis, testes, rectum and descending colon). Pain originating from the above mentioned organs, due to either benign or malignant aetiology, is very likely to be relieved with the superior hypogastric plexus block.
INDICATIONS
PAIN ORIGINATIN FROM
•    Urethra
•    Bladder
•    Uterus
•    Vagina
•    Vulva
•    Perineum
•    Prostate
•    Penis
•    Testes
•    Rectum
•    Descending colon
SECONDARY PELVIC PAIN
•    Cancer metastases
•    Εndometriosis
•    Irradiation-induced lesions
DESCRIPTION OF TECHNIQUE
The patient is placed in the prone position with a cushion under the pelvis to reduce the normal lumbar lordosis of the spine. Under local anaesthesia in the acupuncture site, with the patient in conscious sedation and with the use of fluoroscopy, the needle is advanced to the proper site right in front of the spine between the lower third of the 5th lumbar vertebra and the upper third of the 1st sacral vertebra. The exact site of the needle is confirmed by injecting contrast medium. The same is done also from the other side of the spine.
After confirming the proper site of the tip of both needles, a drug solution is administered for diagnostic or therapeutic reasons. Following the same technique, radiofrequency can be applied to the plexus for its full deactivation. Before applying radiofrequency, a diagnostic block with local anaesthetic precedes to confirm the patient's pain relief. Radiofrequency therapy prolongs the therapeutic result for a long period of time.
Alternatively, plexus neurolysis can be performed with alcohol infusion to ablate the plexus. However, the alcohol diffusion at the neurolysis site is uneven and special caution is needed so as not to harm the neighbouring tissues. On the contrary, radiofrequency neurolysis is absolutely targeted at the site of its application.
BENEFITS
Superior hypogastric plexus block is a minimally invasive technique that is very effective in the treatment of chronic pelvic pain, particularly of pain secondary to malignant diseases. Published studies from international literature, support the efficacy of this technique  also in the treatment of pelvic pain of benign aetiology originating from organs with afferent nerve fibres to the superior hypogastric plexus.
RISKS – COMPLICATIONS
The risk in this technique is very low. In fact, only one severe complication is reported in the whole international literature. In 200 patients who underwent superior hypogastric plexus block for the treatment of pelvic pain due to cancer metastases, no complication was observed (Mexican Institute of Cancer, Roswell Park Cancer Institute, and M.D. Anderson Cancer Center).
Probable risks and complications are infection, bleeding, injury of neighbouring organs, injury of iliac vessels and peripheral ischaemia.
RESULTS
Plancarte et al (1990) have shown that 70% of patients suffering from chronic pelvic pain of malignant aetiology who underwent superior hypogastric plexus block, reported significant pain relief according to the visual analogue scale. In 1993, De Leon-Casasola et al reported, after  completing a study, that  patients who had undergone successful superior hypogastric plexus block cut down on their consumption of opioids by 50% for the following three weeks.
In 1998, Rosenberg et al reported a case where analgesia was achieved for more than 6 months in a patient who had been suffering from chronic non-malignant pelvic pain after transurethral prostatectomy. Another published case report in 2001 mentioned the successful treatment of resistant anal pain from metastatic cervical cancer, by applying a combination of ganglion IMPAR block and superior hypogasric plexus block. At least two more studies have demonstrated significant relief from chronic pelvic pain due to endometriosis when superior hypogastric plexus block was performed.
The duration of the result varies from some weeks to even several years and is not predictable. Radiofrequency neurolysis offers longer duration of analgesia compared to block with local anaesthetic. Due to very few risks and complications, block/ neurolysis can be repeated as many times as necessary if the result is satisfactory but the duration of analgesia is short.